---
No thread required
fully automatic sewing
Small and portable, easy to use, one-handed operation 😎 Suitable for sewing clothes, sewing curtains, handcraft, etc.
Beautiful work, firm and durable.
IT'S SO EASY TO USE, even for beginners!
It can outperform your conventional heavy sewing machine, giving you a flawless stitch in just minutes. It's perfect for anyone who enjoys crafting art and crafts on fabric.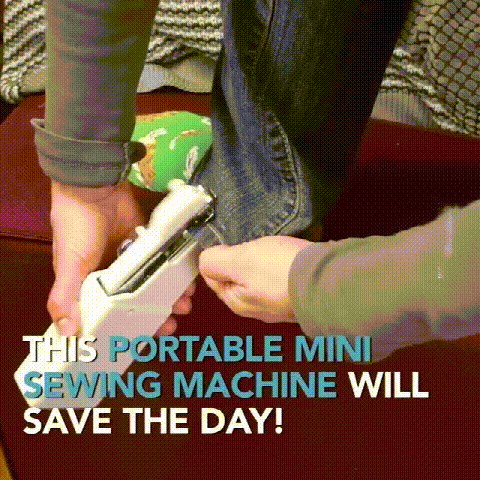 Ideal for sewing all types of fabric.
With this small machine, you can sew curtains, bags, pillowcases, jeans, pants, shirts, T-shirts, sofa covers, and more.
Hassle-free operation
Operating on battery power, it offers wireless convenience with simplified use. It works with 4 AA batteries (not included) to sew anything, anywhere.
How to use:

Using
The first step in using this sewing device is to load the four AA batteries. The batteries go into the compartment at the bottom. After loading the batteries, the sewist must set up the bobbin and thread the machine.
Bobbin Placement
To position the thread correctly, you need to locate the thread holder on the side. After removing the bobbin holder and the spring underneath, slide in the bobbin.
Threading
The thread goes from the bobbin through the first thread guide on the needle arm, through the two tension control plates, and through the second thread guide at the end of the needle arm.
Sewing
The machine sews from left to right. Hold the fabric with your left hand, giving it a slight tension, and turn on the machine using the power switch on top. The fabric will feed itself into the machine.