MAGIC REPAIR GLUE ( A&B )
AN ALTERNATIVE TO TORCH WELDING, IT PROVIDES STRONG AND DURABLE REPAIRS ON METAL AND MANY OTHER SURFACES. IT CAN STICK ALMOST ANY CLEAN SURFACE WITHOUT DIRT OR OIL.
PERFECT FOR HOME DIY, AUTOMOTIVE, MARINE, CRAFT REPAIRS, AND MUCH MORE.
High temperature resistance
RESISTS TEMPERATURES UP TO 150°C. WHEN FULLY CURED IT IS AS HARD AS IRON AND PROVIDES AN EVEN BOND LINE THICKNESS.
A PERMANENT ADHESIVE FORMS AFTER MIXING, WHICH CAN BE SHAPED, BATTERED, FILED, SANDED AND DRILLED AFTER CURING. 1:1 MIX RATIO, SET IN 1 HOURS, FULLY SET IN 12 HOURS. CLEAN AND DRY SURFACE BEFORE USING ADHESIVE AND COMPLETE WORK WITHIN 20 MINUTES OF MIXING.
Easy and fast application

:

preparation and application are simple and straightforward. Just mix, apply and let dry for a few hours. Full drying time is up to 24 hours.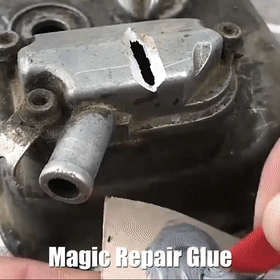 Wide use

Mainly used for casting iron and steel, sand holes and pores, and filling casting defects such as cracks. It can be used to repair fuel tanks, plumbing, concrete breaks, and more.